As a teenager, it can be difficult to know how to apply makeup to make you look natural and gorgeous. With all the conflicting advice, it's hard to know where to start. In this blog post, we'll provide tips on achieving a beautiful makeup look without going over the top. Keep reading for helpful advice!
Makeup for teens: how to look flawless on your first day of school
At some point in every girl's life, she has to start thinking about makeup. It's a whole new world of products, colors, and techniques to learn, and it can be a little daunting. But don't worry! We're here to help you figure it all out.
Here are our top tips for teens who are just starting to wear makeup:
Start with a clean slate. Always wash your face before applying any makeup. This will help your makeup go on evenly and prevent breakouts.
Don't overdo it. When starting out, it's tempting to go overboard with the makeup. But trust us, less is more. Start with a light foundation or BB cream, and add a little concealer if you need it. Then, focus on your eyes and lips. A little mascara and lip gloss will go a long way!
Choose the right products. Not all makeup is created equal. When shopping for makeup, look for products that are non-comedogenic (won't clog pores) and hypoallergenic (won't cause allergies). And always test new products on a small patch of skin before using them all over your face.
Set your makeup. Set it with a translucent powder or setting spray to prevent your makeup from melting or smudging. This will also help it last longer throughout the day.
Touch up as needed. Don't hesitate to touch up if you start to feel like your makeup is wearing off. A quick once-over with a powder compact or lip gloss can make all the difference.
With these tips, you'll be sure to look flawless on your first day of school!
Teen makeup tips: how to look gorgeous on your first date
Whether going on your first date or just heading out for a night with someone new, looking and feeling your best is key to a great time. And while there's no need to go overboard with the makeup, a little bit can make all the difference in how confident you feel. Here are our tips for acing your date night makeup.
A good foundation evens out skin tone and can help hide blemishes, giving you a boost of confidence that will show through on your date. Look for a formula that matches your skin type – if you have oily skin, opt for something oil-free; if you have dry skin, look for a hydrating foundation. And be sure to test it out in natural light to make sure it looks good in different settings.
A concealer is a must for hiding dark circles or blemishes. But, again, look for a formula that matches your skin type, and be sure to blend well, so there are no harsh lines.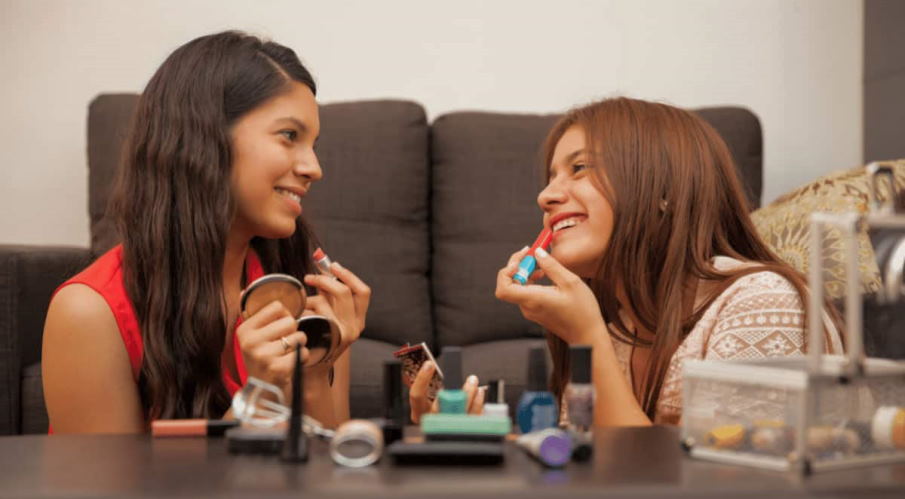 A pretty eye shadow can make your eyes pop – be sure to choose shades that complement your eye color. For a natural look, stick with neutral tones; experiment with smoky eyes or bolder shades if you want something more dramatic.
Mascara opens up the eyes and makes them look bigger and brighter – perfect for date night! Just be sure not to go overboard – two or three coats should be enough.
Eyeliner can make your eyes stand out, but it can also be tricky to apply. If you're not confident in your liner skills, stick to a pencil liner for a more natural look. And if you want to experiment with winged eyeliner, there's no shame in using a guide or sticker to help you get the perfect cat eye.
A little blush adds a healthy flush of color to the cheeks and makes you look more awake and alive. Just be sure to choose a shade that compliments your skin tone – too much blush can look overdone.
A little color can make your lips pop, whether you go for a bold red or a nude lip. And if you're unsure what shade to choose, a sheer gloss is always a good option.
With these tips, you'll be sure to look gorgeous on your date – and feel confident and beautiful, too. So have fun and enjoy your night!